Wear-resistant rubber screen deck
High elastic rubber screen, screening efficiency improved by 20%
Wear-resistance over 128%, service life is 10-20 times of wire cloth
Unique screen sieve design, 100% no block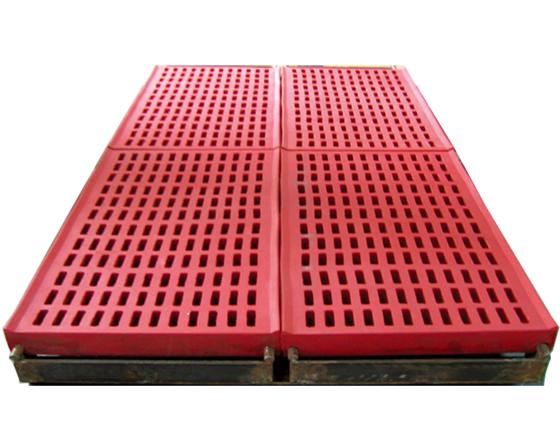 Product performance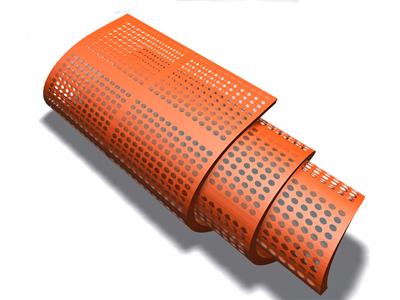 High resilience, work efficiency is increased by 20%
The main material of rubber screen is Xinhai wear-resistant rubber. The elasticity can reach 76%(GB/T1681-1991 standard).
Materials rebound to provide efficient stratification and separation without plugging and blinding. The second time of high-friquency vibrating reduces the viscosity of the materials on the screen and improves the screening efficiency by 30%.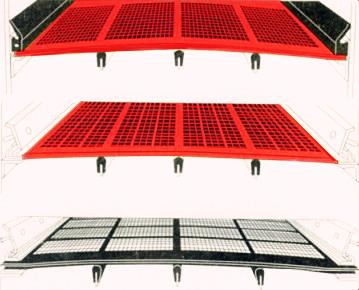 Super wear-resistance, long service life

Rubber screen is mainly made by wear-resistant rubber
Nature rubber content is about 97%
High wear-resistant performance
Service life is 6 times of wire cloth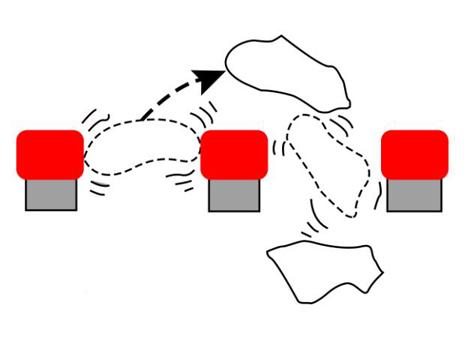 Rubber screen deck is not easy to be blocked
The specification opening in the Xinhai that has been selected for sizing the materials is slightly smaller than the opening in the supporting metal plate underneath.
The flexing properties of Xinhai screen and the specially controlled perforating technique virtually eliminate plugging and blinding.
Xinhai screen deck pannels are divided according to the combination mode with metal frame or size of rubber screen deck. Choose the suitable rubber types according to the screening materials, vulcanisation or sticky to the steel plate or adding wire frame in the rubber.
XH-I screen deck
Heavy load screen deck, high screening efficiency, durability, low maintainance cost and time saving.
XH-Ⅱscreen deck
It is a strong wear-resistant rubber screen deck and fine material can easily pass; the screen deck is made by special low-retractility impregnating fabric with rubber. So it has characteristics of light weight, flexibility, convenient package, transportation and installation.
For such screen decks with width ≥1.2m , the intermediate plate is equipped with hook head bolt and matching cap shield.
XH-Ⅲ and XH-Ⅳ screen deck XH-Ⅲ
XH-Ⅲ and XH-Ⅳ screen deck can be made into a small exchange square and fixed through a bolt.
Note: The service life of the above screen is 10-20 times of wire screen. We have prepared various combinations of mould for different requirments of screen sieve.
Product parameters
Application environment has great effect on the rubber seclon, please let our technicans assist you to make the selection. Technical consultation
Rubber types
35
40
50
60
HD62
HD70
HDS
BB
N55
OZ
FG
Color

Red

Red

Red




Orange

Red




Orange

Black
Black

Red

Black

Orange

Black

White

Polymer type
Nature
Nature
Nature
Nature
Nature
Synthesis
Nature
Synthesis
Nature
Synthesis
Halogenating neoprene
NBR(Synthetic rubber)
Pure nature rubber
Nature
Synthesis
Item
Standard
Hardness
GB/T6031-1998
35
39
50
60
62
70
70
55
55
38
38
Tensile strength(MPa)
GB/T528-1998
23.5
25
29
28
22
23
22.8
10.0
19
26.7
25.9
Elongation at break %
GB/T528-1998
866
750
750
750
700
600
580
580
740
760
810
Tension set %
GB/T528-1998
4
6
20
40
12
14
25
15
12
10
7
Tear strength(N/mm)
GB/T529-1998
81.34
80
140
168
136
142
100
40
71
40
52
Resilience%
GB/T1681-1991
76
74
68
56
50
44
57
34
83
82
Specific gravity
GB/T533-1991
0.95
0.95
1.06
1.1
1.12
1.14
1.14
1.42
1.14
0.98
1.01
Temperature range
-40 – 70oC
-40 – 70oC
-40 – 70oC
-40 – 75oC
-40 – 75oC
-40 – 75oC
-40 – 75oC
-40 – 120oC
-40 – 110oC
-40 – 75oC
-40 – 70oC
Wear-resistant index
GB/T9867-1988
Wer
>=128%
>=90%
>=40%
>=20%
>=40%
>=40%
>=38%
>=16%
Features
Wet wear resistantce, high resilience, resistance to cut and tear, good pliability, easy processing, low noise
Anti-sticking, excellent sealing, used for where rubber needs to be flexible but not easily deformed
Superior severe abrasion and impact resistance, high hardness, tear and cut resistance, under heavy load situation.HD70 and HDS for dry situation
Good resistance to scid-alkali, higher temperature and abrasion, low gas permeability, excellent electrical resistivity
Excellent resistance to oil, abrasion, heat and ageing
Ozone, aging, high temperature, wear and tear resistance
Food safe, no door, no pollution, abrasion and cut resistance, very good flexibility
Application
Pump, valve, cyclone, chute and tube lining, wet screen deck, abroad wet and wear situation
Wet screen deck, sealing washer, roller cover, belt cleaner, bal mill cylinder lining
Heavy screen deck, cushion plate of funnel, lift rod
Severe abrasion or corrosion
Used in oil field and grain-oil processing plant etc for oil and wear resistance
Where ozone, strong sunlight or UV light are present
Particularly suited for food, pharmaceutical and cosmetics industries
Just tell us your requirement and query, we will reply as soon as possible.

Note: the Name,Tel,E-mail,Country and is required