Xinhai tailings dry stacking system
Highest cost-effectiveness of tailings dry stacking in domestic
Equipment cost could be saved 30-50%,running cost <2¥/t
Low energy consumption, power-saving by 2kw.h/t
Water saving, backwater rate≥75%
All lined with Xinhai wear-resistant rubber with long service life

Profile of tailings dry stacking
Why adopt tailings dry stacking?

Reduce a huge investment for building tailings pond
Remove the potential danger of dam-break, landslide and infiltration of traditional tailing ponds
Reuse of resources can reduce the environmental pollution and build a green mine
Make a prepration for the comprehensive use of tailings to turn trash to treasures
Tailings dry stacking has more advantages than wet discharging,so the government ordered that all new mines must adopt tailings dry stacking process. As the first of tailings dry stacking enterprises in china, Yantai xinhai walks in the first with 20 years' beneficiation experience and rich technical resources!
process flowsheet of Xinhia tailings dry stacking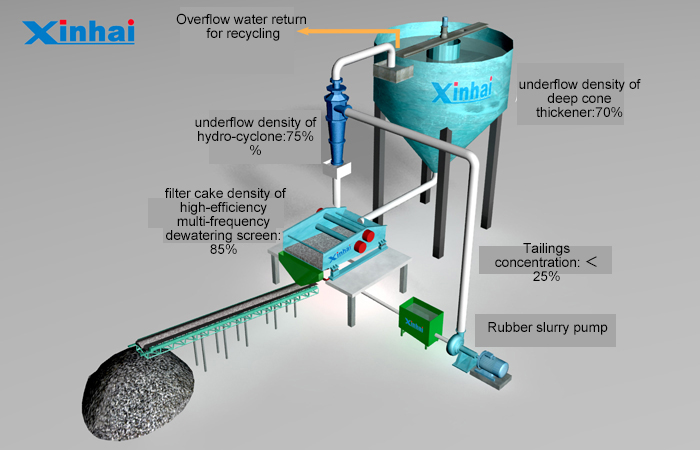 process flowsheet of Yantai Xinhia tailings dry stacking
3D large version
advantages of properties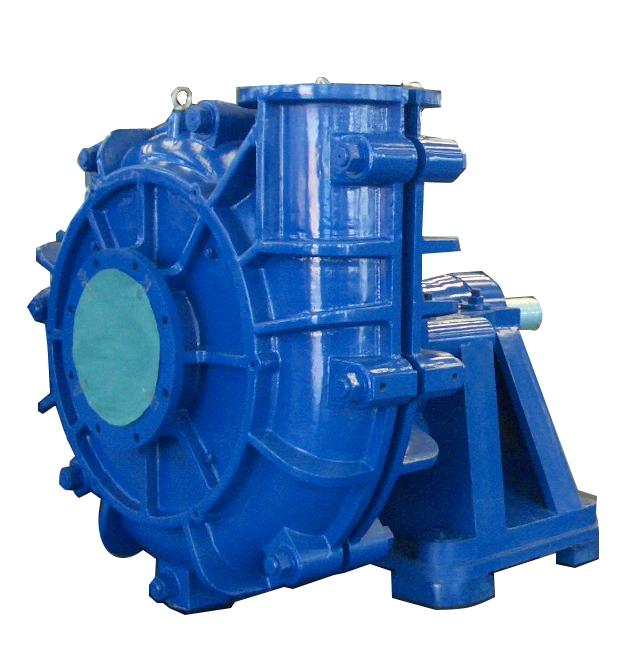 Xinhai rubber slurry pump
The investment on equipment could be saved by 30-50% and running cost can be<2¥/t
In the process of Xinhai tailings dry stacking, hydrocyclone and thickener are without power consumption. Besides, Xinhai slurry pump is a rubber pump, its power consumption is 30% lower than other pumps.
Compared with filter press, high-efficiency multi-frequency dewatering screen has much lower power consumption, therefore, the whole system of tailing dry stacking is very energy-efficient and power can be saved by 2kw.h/t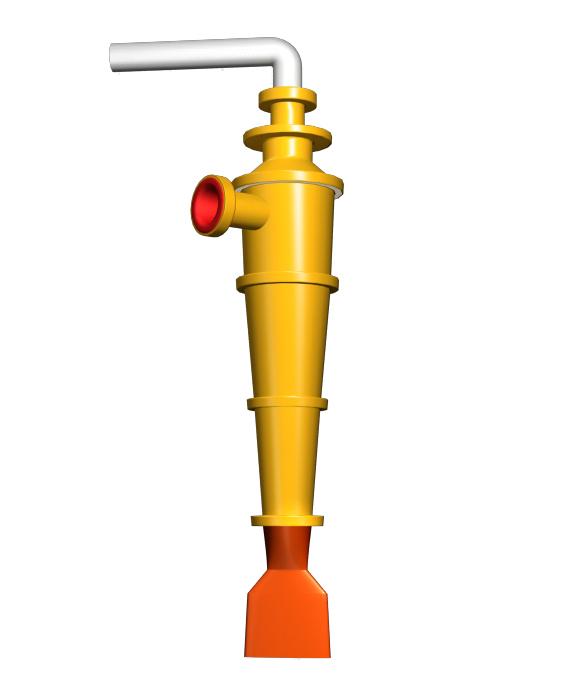 XCⅢ hydrocyclone
Low energy consumption, power saving 2kw.h/t
The underflow concentration of XCⅢ hydrocyclone can be adjusted to 75% in the dailings dry stacking process. It greatly reduces the subsequent investment on equipment by 30-50%, such as thickner and filter press.
Moreover, because of interlocking between all the equipments, it is featured by easy operation, convenient management, low-skill requrements and low running cost for less than 2¥/t.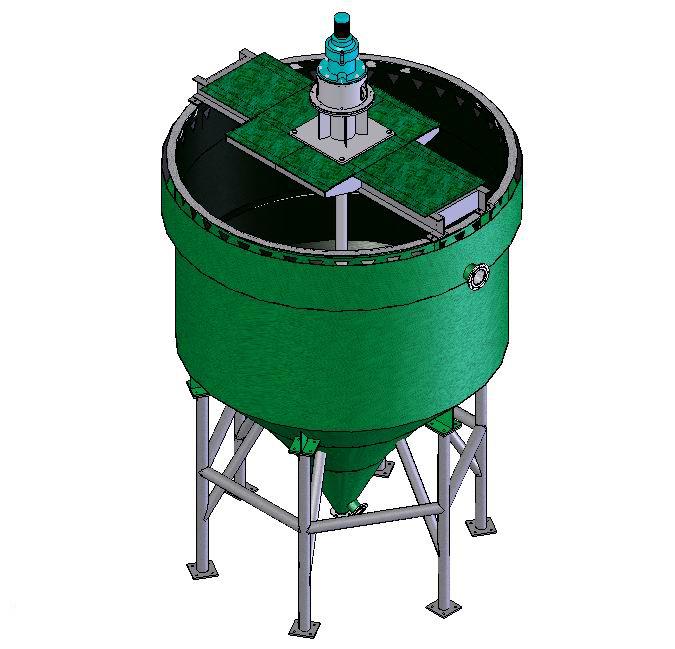 Deep cone multi-cone thickner
Water saving, backwater rate≥95%
Xinhai tailings dry stacking equipment has super thickening and dewatering effect. Take XCⅢ hydrocyclone as an example, the maximum underflow concentration can reach 75%.
The overflow and underflow shall be concentrated again by passing through the dewatering screen and thickner. Finally,clean water and dry tailings can be available. Backwater rate is different according to the properties of tailings, and the top rate could be ≥95%.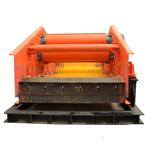 High-efficiency multi-frequency dewatering screen
All lined with Xinhai wear-resistant rubber with long service life.
Wear-resistant rubber has been widely used in many products and parts, such as pump impeller and liners, hydrocyclone wet-parts, shock absorber and side guard plate of dewatering screen, which firmly protects the equipment and prolongs the service life of the whole system.
Application cases
As the first company of using tailings dry stacking, we have completed hundreds of projects.
Welcome to visit our company and see the success of tailings dry stacking in beneficiation.Chat online to get more cases

An iron mine in Changjiang, Hainan
Discharge rate of tailings:1000t/d
Particle size of tailings:-200 meshes 93%
Concentration of tailings:12-15%
Dwatering effect: dry tailings with a moisture of 16.3%

A gold mine in Lingbao, Henan
Discharge rate of tailings:500t/d
Particle size of tailings:-200 meshes 93%, A kind of refractory ores
Dwatering effect:dry tailings with a moisture of <12%, Has running two years.



An iron mine in Beipiao, Liaoning.
Discharge rate of tailings:4000t/d
Particle size of tailings:-200 meshes 91%
Concentration of tailings:15-18%
Water saving:6000,000 m³/year

A feldspar mine in Laiyang, Shandong.
Discharge rate of tailings:1200t/d
Compositions of tailings:deslimed tailings, reverse flotation froth and magnetic separation tailings.
Dewatering effect:filter cake with a mositure of 20-25%


Just tell us your requirement and query, we will reply as soon as possible.

Note: the Name,Tel,E-mail,Country and is required