Xinhai Rubber Sheet
Wear-resistant rubber sheet: wear-resistance index 128%
Rubber Sheet:impact resistance,tear resistance
Chloroprene Rubber Sheet:Heat resistance(160℃)
Oil proof rubber sheet: excellent ageing and wear resistance
Hygiene Rubber:Non-toxic, tasteless, safe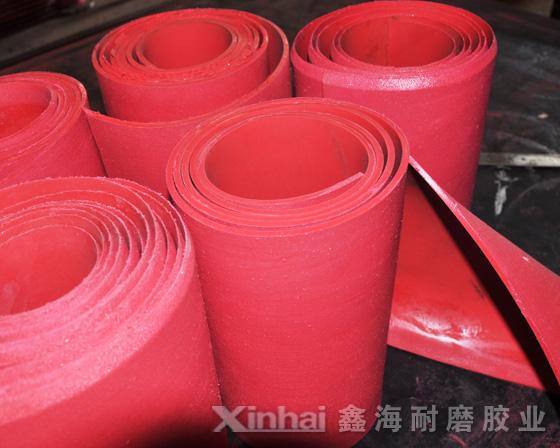 Wear-resistant rubber sheet
The flagship products of Xinhai Rubber are made by the technology (Liquid phase nanometer compounding-normal temperature high frequency curing) which is independently developed by Xinhai. The technology makes the rubber long molecule chain save 97% which is the key of keeping the rubber wear resistance and high elasticity. The features of the rubber product keep the most reserved by completely saving the rubber's long chain. Xinhai wear-resistant rubber is called "The King of wear-resistant rubber" being applied to the fields which need to resist wear such as mines, building materials, chemical industry, thermal power plant, sand factories etc.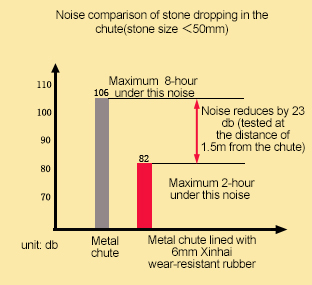 Softkill reduces the abrasion and wear
Xinhai wear-resistant rubber has a large amount of polymer long chains. It has such characters as strong tensile resistance and high resilience, which effectively improves the performance of wear and corrosion resistance. Compared with ordinary rubbers, Xinhai rubber reduces the microstructure damage to the lowest, and maintains the natural features of solid, good elasticity and wear-resistance.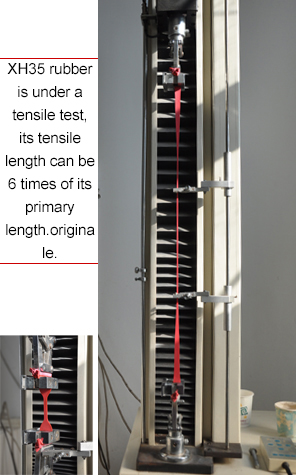 With a high tensile strength of 23.5Mpa
Rubber is against the fluid by tension to a great degree, so tension becomes the main measure index of wear-resistance under wet conditions.Xinhai wear-resistant rubber maintains the polymer long chain of nature rubber, so it has high tensile strength. Results show that the tensile strength of Xinhai rubber can reach 23.5Mpa.It's over than a world leading brand of 23.3Mpa. Moreover, the elongation at break of Xinhai wear-resistant rubber reaches 866%, which is far more than 768%.Good mechanical properties make the wear-resistant index of Xinhai rubber reaches 128%, far above the same type rubber in the world.
Rubber sheet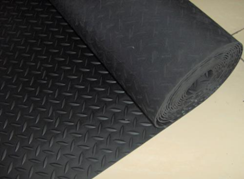 Xinhai rubber sheet, alias impact resistant rubber is made of natural rubber and synthetic rubble with adding rubber additives by mixing, pressing and vulcanizing. It is mainly applied to the liners of mining machine and suitable to wet and dry condition with heavy workload.
High Hardness, impact resistance,tear resistance
XinHai Rubber Sheet is suitable for heavy duty operation because of high hardness, impact resistance, and tear resistance. It could be used in both wet and dry condition.
Wide application
Rubber's application is wide by adjusting the rubber's performance. In the mines field, itcould be manufactured to heavy screen, funnel baffle, lifting lever and so on. It also has wide application in other heavy industry.
Chloroprene Rubber Sheet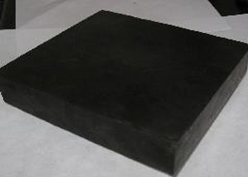 Chloroprene rubber is a kind of polymer elasticity by chloroprene polymerizing, and a kind of general special rubber. Besides the good properties of the normal rubber, Chloroprene rubberhas excellent features of resistance to heat, oil, and chemical corrosion. It takes possession of special space in all kinds of synthetic rubber. XinHai Rubber improves the traditional craft of Chloroprene Rubber,enhances performances of the Chloroprene Rubber product, and widens the range of applications
Heat resistance(160℃)
Chloroprene Rubber Sheet with 233~258℃decomposition temperaturecould resist high temperature. Under -30~90℃, it has a long using, but under 120~160℃, a short-time using.
Wide application of Chloroprene Rubber Sheet
Chloroprene Rubber Sheet which has wide application is used for making transmission belt, conveyer belt, wire, cable, hose, rubber sealing ring, raw materialsof adhesive production etc. The clients could choose different chloroprene rubber sheet according to the conditions.For more details please consult Yantai Xinhai Wear-resistant Rubber Co. Ltd.
Oil proof rubber sheet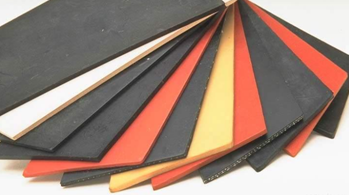 Oil proof rubber is based on NBR with adding rubber additives by mixing, pressing, and vulcanizing which is used to the condition needing oil resistance, such as oil resistant equipments' liners and fittings of mining, oil field and oil machine.
Various kinds of Oil proof rubber sheet
There are various kinds of Oil proof rubber sheet, such as pure rubber sheet and the rubber sheet used to clamp cloth and metal frame worker layer. Xinhai also provide different color rubber sheet to meet the needs.
High hardness, highest working temperature 80℃
Xinhai oil proof rubber sheet possesses high hardness, 710% elongation, excellent sealing ability and certain expansive property. Its long-time using temperature is in -30~80℃.
Hygiene Rubber Sheet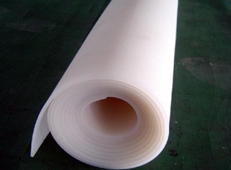 Xinhai Hygiene Rubber with food safe, no odor, white color and high resilience is made of natural rubber, which meets the food safe requirements.It is particularly suited for food, pharmaceutical andcosmetics industries.
Ensure the product quality and safe
Xinhai Hygiene Rubber with food safe, no odor, and white color is made of natural rubber, which meets the food safe requirements.
High wear resistance, High Resilience (80%)
Xinhai Hygiene Rubber sheet containing high composition of natural rubber is soft and resilient with wear resistance and long-life using.
Wide application, expansion to the field with hygienic requirements
It is particularly suited for food, pharmaceutical and cosmetics industries which should meet hygienic requirements
Specs of Xinhai Rubber sheet
Rubber sheet specs
Size: 9.26×1.26m
Thickness: 2~25mm (chosen by clients)
Easy to cut, wide application
Xinhai wear-resistant rubber is easy to be cut into different shapes in order to meet the different needs of customers. Because it can be easily cut and cold bonded, Xinhai wear-resistant rubber can be applied to the flowing aspects: impact parts of funnel and ore storage bin, rubber coating for cylinders, such as the cylinder of magnetic separator, rubberizing on the surface of chute, agitating tank and cement pool, etc.
Special bonding agents, firmly cold bonding
A series of bonding agents are suitable for bonding rubbers which have been invented by Xinhai Company in line with the mining machinery characteristics. They are applied to cold bonding between rubbers, rubber and steel and other materials like metals, leathers, plastics, fabrics, ceramics, etc.and featured by high adhesive strength, very high resilience, resistance to impact, vibration, water, acid and alkali and ageing. The following is the comparison table of peel strength test data of bonding agents treated by Xinhai rubber surface active agent.
| | | | | |
| --- | --- | --- | --- | --- |
| Company | Average peel strength N/mm | Max peel strength N/mm | Min peel strength N/mm | Damage |
| A well-known brand bonding agent | 4.00 | 4.89 | 2.00 | Rubber is separate from adhesive coating |
| After Xinhai rubber surface active agent treatment | 6.00 | 9.41 | 3.00 | Rubber is damaged, but adhesive coating is in good condition |
Instructions of Rubber bonding agents
Mix the two surface active agent and dip clean cloth in the mixture to scrub the surface of rubber during cold bonding.
The team of cold bonding providing professional service
Xinhai organizes a professional cold bonding team to provide service. If the transportation of equipment is inconvenient, the team would offer door-to-door service.

Just tell us your requirement and query, we will reply as soon as possible.

Note: the Name,Tel,E-mail,Country and is required