High Head Slurry Pump
Perfect wear-resistance and corrosion resistance; high head in one step;an idealized feeding pump for filter press
2-stage design with a high water head of 70m
With wear-resistant lining, service life can be prolonged for 2-4 times and maintenance cost can be lowered by 60%.
Rubber impeller, low specific gravity, power-saving can be about 30%
Shaft seal, 100% no leakage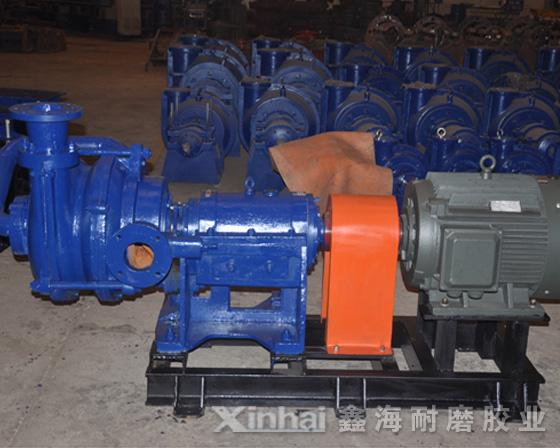 Product features
Perfect wear-resistance and corrosion resistance; high head in one step; an idealized feeding pump for filter press
XPA(2) has broken the limit that the head of rubber pump can not be over 60m. And with the wear and corrosion resistant performance of XH35 rubber, this slurry pump has become the only model that perfectly makes wear-resistance, corrosion resistance and high head in one step, and becomes the top choice for filter press feeding.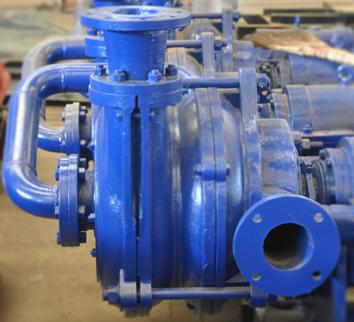 2-stage in series with a high water head of 70m

XPA(2) rubber slurry pump adopts 2-stage impellers design
No need to increase the diameter of impeller, which reduces the pump weight
The energy is saved to some extent, but the head is greatly improved.
With a high water head of 70m.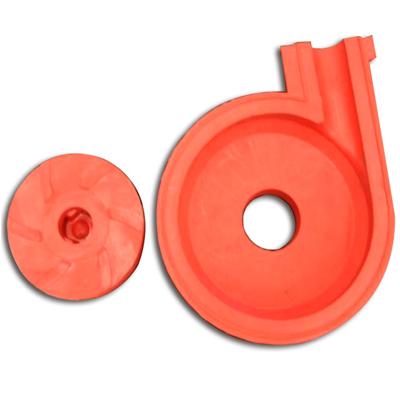 Super wear-resistance, less maintennance
Impeller and lining are lined with Xinhai wear-resistant rubber.
Wear-resistant index over 128%
The service life of wet parts is 2-5 times of metal impeller and linings.
Low breakdown rate because of the perfect sealing performance.
Easy maintenance.Only rubber wet-parts need to be changed.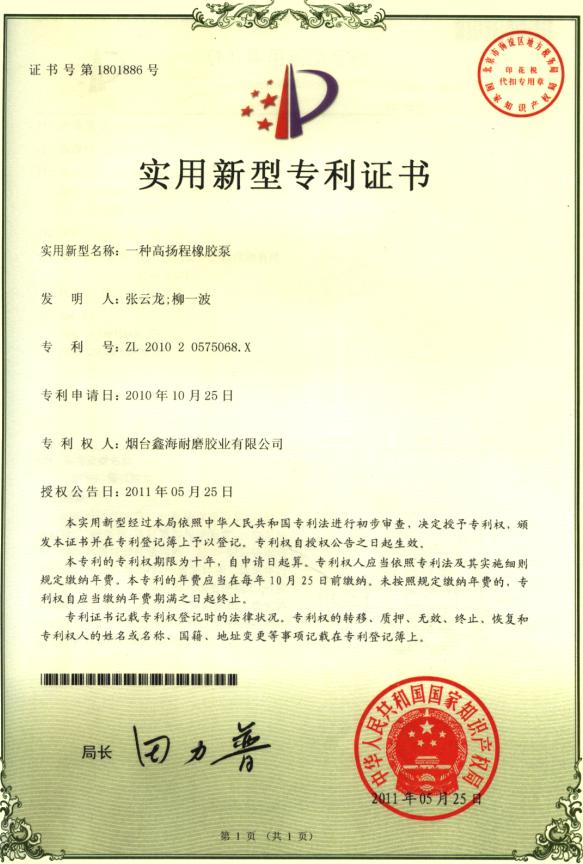 High-efficiency, low power consumption, energy saved by 30%
Wear-resistant rubber impeller and lining, low specific gravity, light weight
Specific gravity of rubber pump is 0.97, compared with the metal pump(7.85), Xinhai wear resistant rubber
pump has such characteristics: low power, remarkable energy saving by 30%.
Good sealing, 100% no leakage
Xinhai XPA(2) rubber slurry pump has reliable sealing material and stucture and adopts packing seal with almost no leakage. Besides, it has simple structure and can be easy to manage.
It applied for a patent for utility models in Oct.2010 and the patent was granted in May,2011,Patent No.:ZL 2010 2 0575068.X
| XPA(2) rubber slurry pump | Ordinary slurry pump |
| --- | --- |
| With notable energy saving effect of 30% | Large energy consumption |
| Noise reduction of 60%, efficiency improved of 20% | Loud noise, general efficiency |
| Lined with wear-resistant rubber prolongs its service life for 2-5 times. | Short service life |
| Lining protection, convenient maintenance, less downtimes for humans | Laborious and time-consuming of maintenance |
| Overall cost-effective >170% | Higher composite cost |
Warm tips:
Application of XPA(2) slurry pump -> Flow rate:60~120h/m², slury density:<60%, temperature range:-40℃~70℃
Product parameters
Please let technical personnel to assist in the selection of suitable for your productstechnical consultation
Model
Rotationg speed

(r/min)

Flow rate

(m³/h)

Head

(m)

Max shaft power

(KW)

Reference motor

(KW)

Model
Power
XPA(2)-50
1480
27.5
76.0
22.3
Y225S-4
37
41.4
72.2
55.2
66.1
69.0
56.0
80.0
43.5
XPA(2)-65
1480
40.0
76.0
32
Y225M-4
45
60.0
72.2
80.0
66.1
100.0
56.0
115.0
43.5
XPA(2)-75
1480
56.0
73.3
49
Y250M-4
55
85.0
69.0
113
62.5
150
51.2
169
44.0
XPA(2)-100
1480
70.0
73.5
62.5
Y280S-4
75
105
71.6
140
68.6
186
61.9
245
48.5
XPA(2)-100-Ⅰ
1480
79.7
80.0
78.2
Y280M-4
90
119
78.0
159
74.8
211
67.5
279
52.9
XPA(2)-100-Ⅱ
1480
58.0
91.8
64.7
Y280M-4
90
87.0
89.1
116
85.7
154
77.3
203
60.6
Just tell us your requirement and query, we will reply as soon as possible.

Note: the Name,Tel,E-mail,Country and is required