Dense medium cyclone
Wide particle size range for good separating effects with high separating accuracy.
Free and various for equipment arrangement
A new feeding way, automatic control production
Xinhai provides four types of dense medium cyclones: XC3Y, XC2Y, XC3W, XC2W, so adapt to different beneficiation requirements of clean coal.Welcome consultations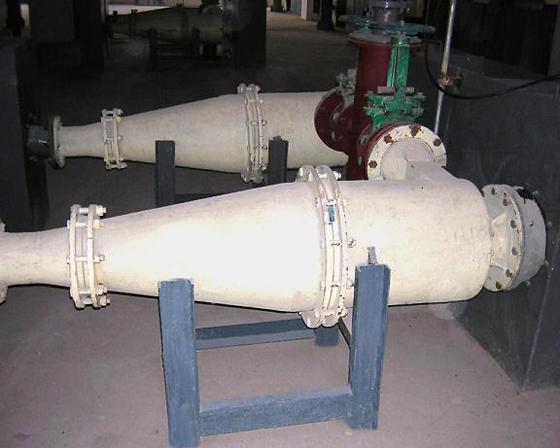 Product performance
Upper limit of selected particles reaches 100mm, and lower limit reaches 0.5mm with good adaptability
Different specifications can meet the different needs of particle size, and the selected upper limit can reach 100mm, which greatly reduces the prepration before beneficiation and improves the capacity. At the same time, the strong internal centrifugal force is suitable for fine particles classification, and lower limit reaches 0.5mm.
With adjustable overflow pipe and underflow mouth diameter, it has high classification precision
When the dense medium cyclone works, suspension in the second stage comes from the concentrate of first stage, so the second stage separation density is not only related to the first stage separation density but also related to the Dia. of underflow outlet. Therefore, the separation density can be adjusted by changing the first stage overflow pipe and second stage underflow outlet in order to improve the classification precision.
Free and various for equipment arrangement to meet the different needs of customers.
Xinhai dense medium cyclone can be horizontally or aslant placed. Meanwhile, it has two feeding ways: constant pressure feeding and pump feeding, which can meet the differnet production requirements. Pump feed can greatly reduce the plant height and simplify the working process to cut down the infrastructure investment. Constant pressure feeding makes light break for the clean coal and less abrasion to the pipe. It has no limit to the upper feeding, which reduces the medium circulation and makes the production more intuitive.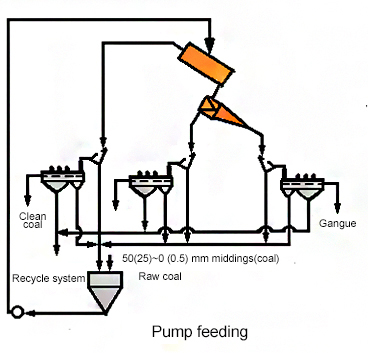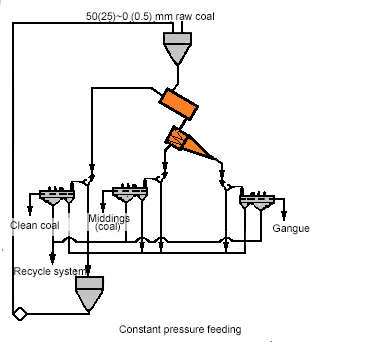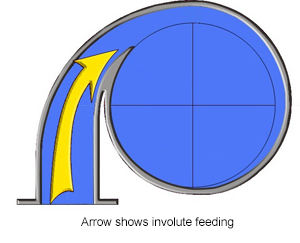 Involute feeding greatly reduce the abrasion.
When the dense medium cyclone works, fluid in the cyclone has a tangential velocity (>4.4m/s), serious wear of the parts.
In order to reduce the overcurrent abrasion, Xinhai dense medium adopts cyclone adopts involute feeding to improve the stability of fluid and classification effects.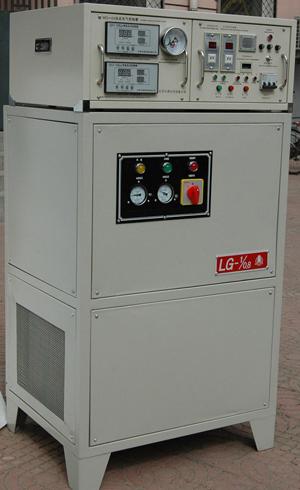 Easy to achieve automation and improve the classification precision
The discharging of refuse and middings can be effectively controled by adjusting than chamber and discharge outlet of XC3W cyclone, it makes the production management more easier.
Besides, automatic control can be realized by using the cyclone automatic control system invented by Xinhai, which ensures the stable feeding and geatly improves the classification effect and separation precision.
Product parameters
Application environment has great effect on the rubber seclon, please let our technicans assists you to make the selection.Technical consultation
Xinhai can provide 4 types of dense medium cyclone to meet your needs, welcome to contact us!
XC3Y dense medium cyclone
Specification & Dimension
Diameter

(mm)

First stage Second stage
Feeding particle size

(mm)

Feeding pressure

(Mpa)

Cpacity

(t/h)

Mediun circulating load(m3/h)
XC3Y 500/350
500 350
≤20
0.06-0.10
35-60
180-250
XC3Y 600/400
600 400
≤30
0.08-0.12
50-90
250-370
XC3Y 710/500
710 500
≤35
0.09-0.14
90-130
370-540
XC3Y 780/550
780 550
≤40
0.10-0.15
110-160
540-650
XC3Y 850/600
850 600
≤45
0.13-0.16
120-180
650-700
XC3Y 900/650
900 650
≤50
0.15-0.18
160-200
740-840
XC3Y 1000/710
1000 710
≤55
0.18-0.22
200-250
840-1050
XC3Y 1100/780
1100 780
≤60
0.20-0.24
240-280
1050-1250
XC3Y 1200/850
1200 850
≤70
0.22-0.28
300-380
1250-1600
XC3Y 1300/920
1300 920
≤80
0.26-0.32
350-450
1600-1900
XC3Y 1400/1000
1400 1000
≤90
0.30-0.40
450-550
1900-2300
XC3W dense medium cyclone
Specification & Dimension
Diameter

(mm)

First stage Second stage
Feeding particle size

(mm)

Feeding pressure

(Mpa)

Capacity

(t/h)

Medium circulating load(m3/h)
XC3W 500/350
500 350
≤20
0.05-0.08
35-50
140-180
XC3W 600/400
600 400
≤30
0.06-0.10
50-80
180-300
XC3W 710/500
710 500
≤35
0.08-0.12
80-120
300-420
XC3W 780/550
780 550
≤40
0.09-0.13
100-150
420-540
XC3W 850/600
850 600
≤45
0.10-0.14
120-180
480-620
XC3W 900/650
900 650
≤50
0.12-0.16
140-200
560-700
XC3W 1000/710
1000 710
≤55
0.15-0.18
180-230
700-800
XC3W 1100/780
1100 780
≤60
0.18-0.22
220-280
800-1100
XC3W 1200/850
1200 850
≤70
0.20-0.28
260-350
1100-1400
XC3W 1300/920
1300 920
≤80
0.22-0.30
320-400
1400-1600
XC3W 1400/1000
1400 1000
≤90
0.28-0.38
400-500
1600-2000
XC3W 1500/1100
1500 1100
≤100
0.30-0.40
500-600
2000-2400
XC2W dense medium cyclone
Specification & Dimension
Diameter

(mm)

First stage Second stage
Feeding particle size

(mm)

Feeding pressure

(Mpa)

Capacity

(t/h)

Medium circulating load(m3/h)
XC2W 350
350
≤15
0.04-0.06
25-35
80-130
XC2W 500
500
≤30
0.05-0.08
35-60
130-180
XC2W 600
600
≤35
0.06-0.09
60-80
180-260
XC2W 710
710
≤40
0.07-0.10
80-110
260-320
XC2W 800
800
≤45
0.08-0.12
110-150
320-440
XC2W 900
900
≤50
0.10-0.16
150-180
440-540
XC2W 1000
1000
≤55
0.15-0.18
180-220
540-650
XC2W 1100
1100
≤60
0.16-0.22
220-250
650-800
XC2W 1200
1200
≤70
0.20-0.25
250-320
800-1200
XC2Y dense medium cyclone
Specification & Dimension
Diameter

(mm)

First stage Second stage
Feeding particle size

(mm)

Feeding pressure

(Mpa)

Capacity

(t/h)

Medium circulating load(m3/h)
XC2Y 350
350
≤15
0.04-0.08
26-36
100-150
XC2Y 500
500
≤30
0.05-0.10
36-60
120-180
XC2Y 600
600
≤40
0.06-0.12
50-75
150-220
XC2Y 710
710
≤50
0.08-0.12
70-140
210-400
XC2Y 800
800
≤60
0.08-0.13
140-220
400-700
XC2Y 850
850
≤60
0.09-0.13
220-280
700-880
XC2Y 900
900
≤70
0.09-0.14
280-320
880-1050
XC2Y 1000
1000
≤70
0.10-0.15
300-360
1050-1150
XC2Y 1100
1150
≤80
0.10-0.16
350-420
1150-1300
XC2Y 1200
1200
≤80
0.10-0.17
400-460
1300-1400
XC2Y 1300
1300
≤90
0.10-0.18
460-540
1400-1600
XC2Y 1450
1450
≤100
0.10-0.20
540-650
1600-2000
XC2Y 1500
1500
≤100
0.10-0.20
650-740
2000-2300
Just tell us your requirement and query, we will reply as soon as possible.

Note: the Name,Tel,E-mail,Country and is required